I like music, I like listening to it, and I love making it. To me, music is one of the most important things mankind had come up with, probably next to Twix, or even ahead of it.
I play guitar on the most part now, but for the good part of most of my adult life, I'd been a bass player. I also dabbled with keyboards some, and around 2004-5, I had a little piano / sax project going on. I credit the great Joe Satriani for giving me the inspiration to finally pick up the guitar, and learn to love it.
I'd been in a band of sorts for the good part of the past many years, mostly as a bassist starting in 2003 when I first started learning music "properly" – my first band was called JC's Funk Project, and while we though we were cool and made a lot of noise, we never got off the ground. I started "learning the guitar seriously" in 2005, and managed to form my own band, a very short lived project called Kite, and yes I took the name from the anime of the same name. We played exactly one gig, at the 2006 Toycon. Among the other bands I'd played in as a bassist was a band called CYSTEMA, which had a more alternative rock feel which was very popular at the time, and WarWithin, a heavy metal project that opened my eyes to band life in general. My friends (myself included) reformed JC's Funk Project, and we eventually gravitated towards a more classic rock sound, before one of us decided to take up vocal duties, and renamed the band Bulagta. After many personnel changes (I also stepped out, but returned last year) they finally settled on their own niche, and had developed quite a following.
Now, all of the bands I'd mentioned above played Western-style music, with English lyrics and Tagalog (Bulagta) being the prevalent choice.
I also had another set of friends who'd wanted to start a band, and they listened and played mostly a hitherto unknown form of music called J-pop / rock (Japanese). I met some cosplaying girls back in 2002 by way of my friend Rich (frontman / head axeman of Bulagta) and we got around quite well. We stuck together some years, and quite a few down the road, they decided to start a band in addition to them singing the songs. Among them, Icel and Ivory, I'd played with the most, with Lubel being a distant third since she's decided to permanently drop her sticks.
Icel and Ivory, being osam (awesome) as they are, wanted to start a new band so they enlisted help from their boyfriends, Marlo and Kajo to fill the other instrument spots. At first, it was just 4 of them, and they started out as Double Date. Prior to this though, they were also members of the now defunct Dead End, and Photosynthesis, the latter of which had been able to perform in Ongaku events that were very popular in the J-music scene back then. Double Date didn't really have a lead guitar, and Icel first started out singing with Ivory with Marlo on bass, and Kajo on drums. Since they wanted to play in BOA 2011, they enlisted the help of my former bandmates Kevin (now lead guitar for Subkonsious Terror) and Rich for rhythm and lead guitars.
That project got them a spot in BOA 2011, but unfortunately, they lost out on the competition.
Come July 2011, they wanted to give it another go, but the guitar section is no longer available since they wanted to focus on their respective bands. They contacted me to come in for the lead guitar spot on a one time basis because they wanted to play on an upcoming Ongaku event. That didn't go through either, but we had quite a bit of fun with it all that we decided to stick with it. We didn't have a name then, and a new event was coming up – the 2011 Asian Pop Festival. I don't quite remember who pitched the name "Shinkan", but we kinda liked the vibe since it pretty much meant "new member", and with me being in their band, we might as well be new as new could be.
While I do listen to J-pop/rock, and am pretty familiar with it, I hadn't really gigged around with this form of music. I was coming from a semi-reclused state because after Kite didn't get off the ground, I focused on writing and recording instrumental guitar songs.
We practiced a ton for that first show for the Asian Pop Festival; unfortunately, we didn't make the cut. Another upcoming band then, asterysk*, took the spot, because they were spectacularly amazing – we'd since become close band buddies in the scene.
We went on to play out some more, and join competitions here and there, to varying results. Our first big break came when we joined Otomonogatari in 2012; we bagged 3rd place on that, losing out to Yui for President, and the kids of Neon 5, most of whom I'd become closely associated with. The people loved our rendition of LiSA's "Brave Song" – this was one of the first songs where I completely fell head over heels for LiSA's singing. Tech problems came our way too, Marlo's guitar can't be heard much, leaving me the most heard guitar. Good thing I practiced that song until I can play it with my eyes closed – I can never forget the people cheering on when I played the solo at the end.
That's us on stage, credits to Deremoe
I somehow bagged an award for "Best Guitarist" although I suspect I was able to do so because I bombed the place during the solo for Hirano Aya's "First Goodbye", or maybe because I was wearing my Chikara hat.
We went on to join 2013's Best of Anime show, with an intro we spliced from the guitar solo from "First Goodbye" and one of Ivory's own songs, "Rockstar". We ended it with what was to become our signature song, the very popular "Yuzurenai Negai" by Tamura Naomi. We also started gigging outside of cons earlier in the year, since we were called in to play at a One OK Rock tribute gig. We also played a show in Ortigas, organized by one of our friends, to what seemed to be good reviews. The icing on the 2013 cake was that we finally won, like really won a competition – we took the champion bag at the 2013 Ozine Anime Figure Special, playing "Yuzurenai Negai". We played that show at the expense of my attendance at my car club's Christmas and Year End party, and I didn't expect anything out of it – if any, I thought I'd screwed up my parts, and didn't like my solo tone nor feel.
2014 found us as guests (yey!) for various events. We no longer had to scrounge around for dregs since we'd already made a name for ourselves. I think one of the first events we guested on was con at the QC circle, organized by friends from Otaku Tayo!. We were also called in to guest on the 13th Toycon, playing various songs that we were already known for. We still went out for a little competition by going up against asterysk* and Rosier at the Best of Anime show, which was judged by members of the indie v-kei band heidi. We unfortunately lost that one. Backstage though after our set (we were the last performers), I was fumbling around with my gear when one of the members of the band approached me and shook my hand, mostly because he recognized our soundcheck "Triptych", as made popular by the band Siam Shade. Whoever that dude was (I didn't recognize who he was, but I suspect it was Nao) but he says he liked us, and went on to make guitar small talk, implying he'd wanted to have heard the song completed, asked me if I personally liked Siam Shade, and he'd gone on to tell me he is acquainted with the band and Daita. I didn't want to let go of his hand, it was probably the only way I could've touched something or someone that Daita personally knew. I left that show with a tremendous sense of accomplishment – while we didn't win, I knew deep down that at least, they had noticed us and didn't die of boredom.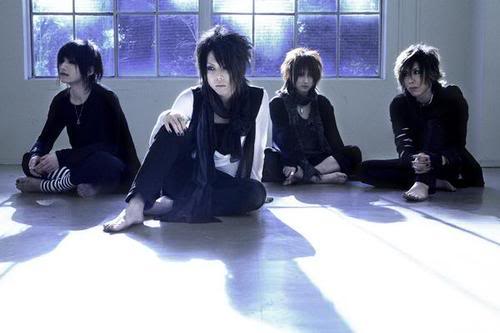 These are the guys of heidi., one of today's modern acts carrying on the v-kei torch
Oh, did I mention StarMarie also came down to perform with not 3, not 4, but a 5 member formation?
One of the last shows we played that year was the immensely enjoyable UP AME X at the World Trade Center, for which we were also taken in as guests. We played our signature songs, with the addition of Siam Shade's "1/3 Pure Emotions", and I put some more personal touches on "Yuzurenai Negai". After that particular show, I felt like a friggin' guitar hero.
Earlier this year (2015) we'd already appeared in a number of shows, most notably the first Ozine event of the year back in January. We debuted a new song "Zutto Kimi ni Soba De", which surprisingly hit the vibe because most bands played stuff off of 90's anime. Interestingly, I was also invited, albeit at the last minute, to be a judge for the Karaoke contest, despite my current inability to sing properly.
Thanks for the amazing photo of my back Pebbles
Time to rock! We had a guest vocalist, Jake, to help us along with 1/3.
We'd also played an amazing set in Bih Zahr along Sct. Borromeo in Quezon City. We paid homage to LiSA by playing an all LiSA set, most notably covering "Thousand Enemies" and "Little Braver".
We're expecting more shows this year, and beyond – as it is, we're already getting crowded because we seem to be gigging almost on a weekly basis until late June.*
Why exactly do we play this type of music? Who the hell listens to all of this?
I'm not sure why we're into J-pop / rock, but I can safely posit that it's mainly because we're big anime fans. Also, this type of music has some pretty interesting soundscapes – very nicely done, interesting progressions and melodies keep us interested. And though I do not completely understand Japanese (well, not much) it's a great way to learn the language. Mostly though, I treat it like instrumental music, with the voice of the singer forming part of the overall sound. As a guitar player, there is also a lot of interesting things going on.
I think what gravitated me towards this particular genre is that it fosters a great sense of nostalgia for anime and other shows we're seen in the past. And it's so much more awesome to share this common geekery with people you share the same interests with.
Ah, yes the crowd.
Sure, we do not draw in huge numbers of people like, say when I am with Bulagta, or your regular heavy metal gigs. We often come home with less money in our pockets since we cover our own rehearsals, and do not really get paid to this. It's like a labor of love to keep the sense of community going, and as it is, the local j-music cover bands are pretty big pieces of attraction at conventions.
There you have it, my short history with the band.
PS. If you're a *ehem* fan, please use our official hashtag : #goninshinkan when you post our photos, videos etc. It's a portmanteau of "go" which means 5 in Japanese, and our band name. We will totally love you for it.
* – as of 06/21/2015, the band is on indefinite hiatus